Er beweegt heel wat in de ICT-wereld…
Technologische evoluties volgen elkaar razendsnel op.
Cybersecurity, back-up issues of shadow IT stellen uw team elke dag op de proef.
De toenemende digitalisering leidt tot een grotere belasting van werknemers.
De exponentiële toename van data en het tekort aan gespecialiseerd ICT-personeel is dé uitdaging voor veel bedrijven tegenwoordig.
Doch, snel en adequaat schakelen is geen overbodige luxe… Maar hoe doet u dat als u handen tekort komt?
Onze ICT-specialisten zijn stuk voor stuk ervaren, gecertificeerde professionals
die uw ICT-afdeling met raad en daad kunnen bijstaan, precies waar en wanneer u ze nodig hebt.
Strategisch of operationeel, ad hoc of op langere termijn, in drukke periodes of onverwachte omstandigheden.
Er staat altijd een ICT-specialist voor u klaar.
1 op 8 Vlaamse bedrijven werd in 2021 slachtoffer van een cyberaanval.
Bedrijven ondervonden 50% meer hackaanvallen in 2021.
83% van de bedrijven zijn niet voorbereid op de financiële gevolgen van een cyberaanval.
4 op 10 bedrijven hebben géén securityplan.
ICT-audit op 12 kritieke punten
Onze ICT-specialisten nemen uw ICT-infrastructuur grondig onder de loep
en focussen op maar liefst 12 kritieke punten.
Ze leggen de vinger op de zere wonde(n) en bezorgen u nadien een rapport
met daarin de aanbevelingen die uw ICT-netwerk klaarmaken voor de toekomst.
(*gratis aanbod onder voorwaarden)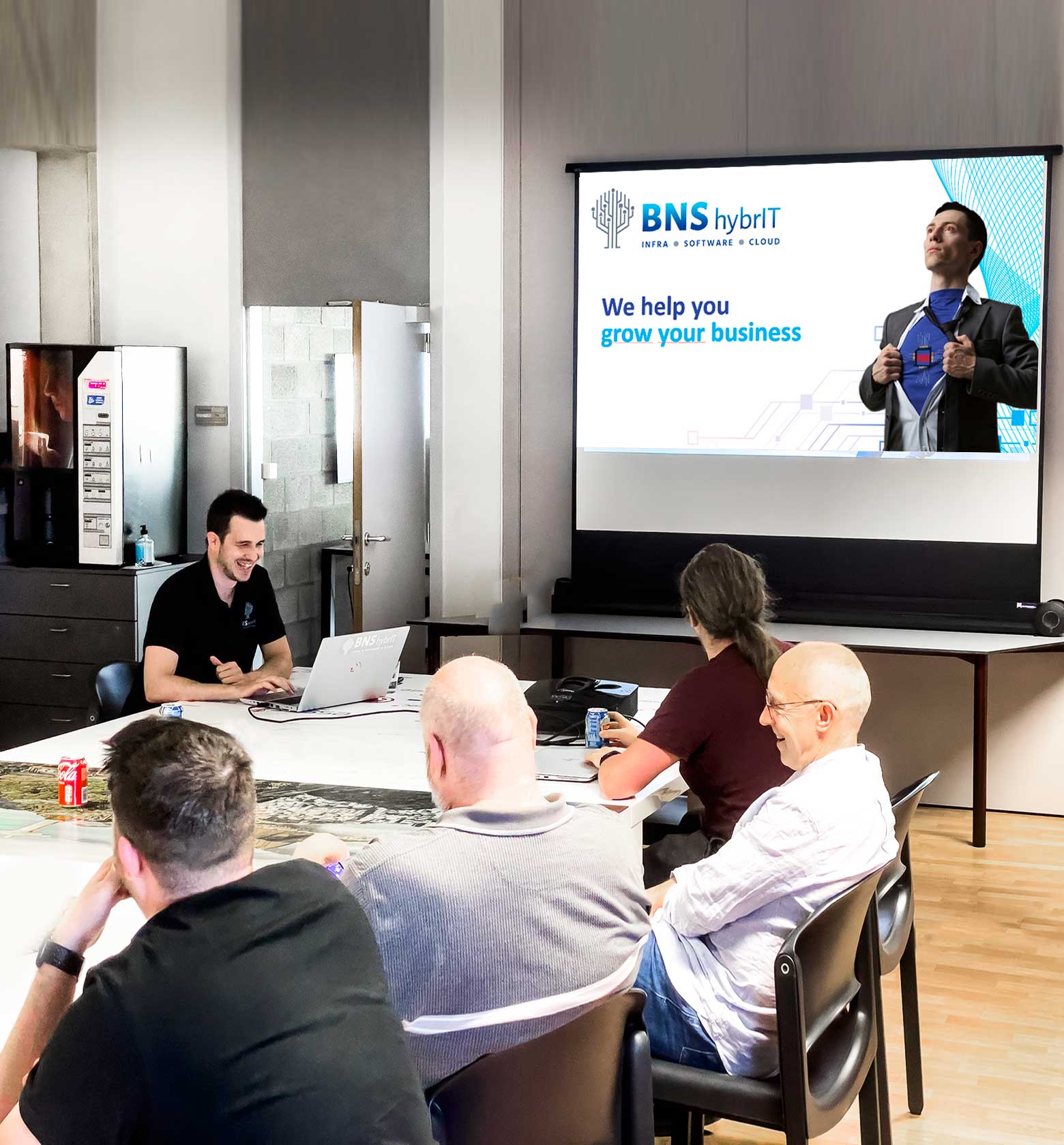 Al meer dan 30 jaar vindt u in BNS hybrIT een betrouwbare en professionele partner, bij wie u terecht kunt voor zowel de support op uw bestaande systemen als advies over nieuwe oplossingen.
Als Microsoft Gold partner, HPE, HP Inc., Watchguard, VMware, Veeam kunnen wij u assisteren bij de bouw en ondersteuning van uw Hybrid ICT-platform (zowel onprem en/of Cloud). Voor server, storage, netwerken (bedraad of draadloos), security, licenties enz. kan u bij ons terecht.
BNS hybrIT ontzorgt u door ad-hoc support, semi-detachering, managed services, 24×7 monitoring. Wij kunnen u voorzien van dagelijkse en/of preventieve ondersteuning en kunnen dus perfect uw (huidige) infrastructuur volledig in beheer nemen, indien gewenst.
Onze ICT-specialisten staan u graag bij met:
Een future proof ICT-plan   |   Gesofisticeerde cybersecurity   |   Betrouwbare back-ups   |   Een slimme shadow IT-aanpak   |   Een efficiënte projectrealisatie   |   Onafhankelijk ICT-advies
Of we een oplossing hebben voor uw ICT-infrastructuur?
BNS heeft voor elke situatie het geknipte serviceconcept!
Heeft u regelmatig ICT-support nodig,
maar niet meteen elke week?
Kies één van de voordelige
FocusFlex-bundels en betaal enkel
wanneer u hulp nodig heeft.
Wenst u uw ICT-team
structureel te versterken?
Kies voor deze formule en er
staat steeds een ICT-specialist voor u
klaar. 1, 2 of 3 dagen per week.
Heeft u nood aan ICT-support op maat? 
Neem contact op met ons: 011 858 851 of sales@mybns.com.
Ja, ik kan ondersteuning gebruiken.
Laat uw gegevens hier achter en we nemen vrijblijvend contact met u op om te kijken hoe onze ICT-specialisten u van dienst kunnen zijn.
BNS biedt het meest complete aanbod
met één aanspreekpunt voor al uw ICT-noden.