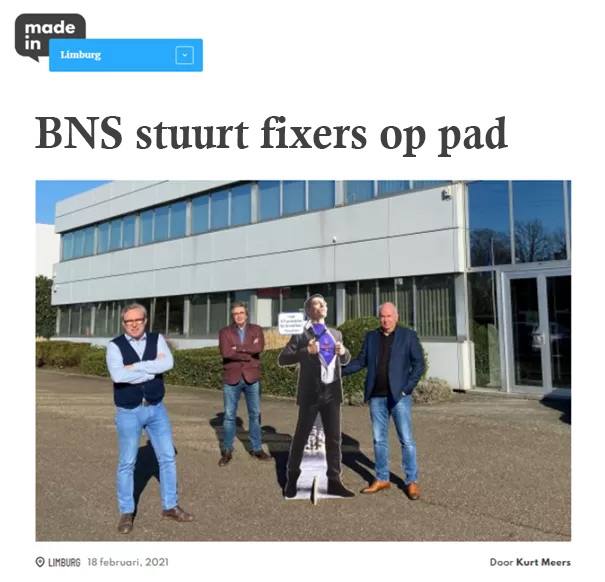 (BNS maakte op datum van 2/2/2021 nog deel uit van de holding Essec Group)
Beringen, 2 februari 2021. Business Network Systems (BNS), de IT partner uit Paal-Beringen creëert een speciaal team van IT specialisten om op dagbasis bedrijven bij te staan in hun operationaliteit op vlak van hun IT infrastructuur en – applicaties. Elk lid van dit 'squad'-team krijgt de naam 'FocusFixer', en zij worden in bedrijven ingezet op vaste dagbasis, ter plaatse of indien noodzakelijk, vanop afstand. Ze worden een deel van de interne IT groep van de organisatie. In tegenstelling tot de 'klassieke' detachering houdt BNS er een specifieke filosofie op na om hun FocusFixers nooit voltijds te detacheren.
IT experts aan boord voor waar ze nodig zijn
Ferdi Hooberghs, Operations Manager Infrastructure: "We kregen in volle corona crisis regelmatig de vraag om support engineers ter plaatse bij bedrijven te laten werken voor één of meerdere dagen. Dat is natuurlijk geen probleem, alleen moesten we geregeld puzzelen om binnen de vooropgestelde tijdspanne iemand voor een dag of meerdere dagen ter beschikking te hebben. Natuurlijk kwam die vraag veel voor omdat bedrijven nu de kans zagen om bij een lagere fysieke aanwezigheid van personeel meteen een aantal zaken versneld uit te voeren. Dus hebben we besloten om dit systematisch te organiseren, met ook een interessante prijszetting."
Budget onder controle
Voor IT-teams die overladen zijn met werk, maar geen extra persoon kunnen aanwerven, kan een FocusFixer een oplossing bieden. Onmiddellijk inzetbaar, met de juiste expertise en certificaten, waar en wanneer de klant het nodig heeft.
Mark Decat, Managing Partner van Essec Group (BNS maakte op datum van 2/2/2021 nog deel uit van de holding Essec Group): "Er zijn veel organisaties die te klein zijn om een eigen voltijdse IT manager in dienst te nemen, en iemand deeltijds vindt men gewoonweg niet hiervoor. Jammer, want de noodzaak is er wel. Anderzijds zijn er bedrijven die een IT team hebben die overladen zijn met werk (zeker in deze periodes waar het merendeel van de collega's thuis werkt), maar onvoldoende werk om een extra persoon bij aan te werven. Anderen hebben dan weer een specifiek project dat ze uitrollen en waar extra mankracht voor een bepaalde periode nodig is,… kortom, we voorzien hulp waarvan op voorhand exact kan ingecalculeerd worden wat het budget zal zijn".
Waken over expertise
Maximaal 3 dagen per week om expertise op alle domeinen op peil te houden
De inzet van de FocusFixers wordt begrensd op maximaal 3 dagen per week. Met een duidelijke reden. Bart Bylemans, eigenaar en Managing Partner van BNS: "Wanneer we onze FocusFixers 5 dagen per week 'aan een klant zouden binden', zouden ze een stukje blind worden voor andere nieuwe technologieën die op de markt komen en waar 'hun' bedrijf geen gebruik van maakt. Doordat de FocusFixers minimaal 2 dagen per week worden ingezet voor andere klanten, blijven ze hun expertise op alle domeinen op peil houden, en dat komt dan weer ten goede van de klanten met een FocusFix contract." Een bijkomend voordeel is dat waar nodig, extra diensten buiten het FocusFix contract, door collega's kunnen gegarandeerd worden. "Zo ontstaat een enorme flexibiliteit voor elke grootte van organisatie", aldus Bylemans.