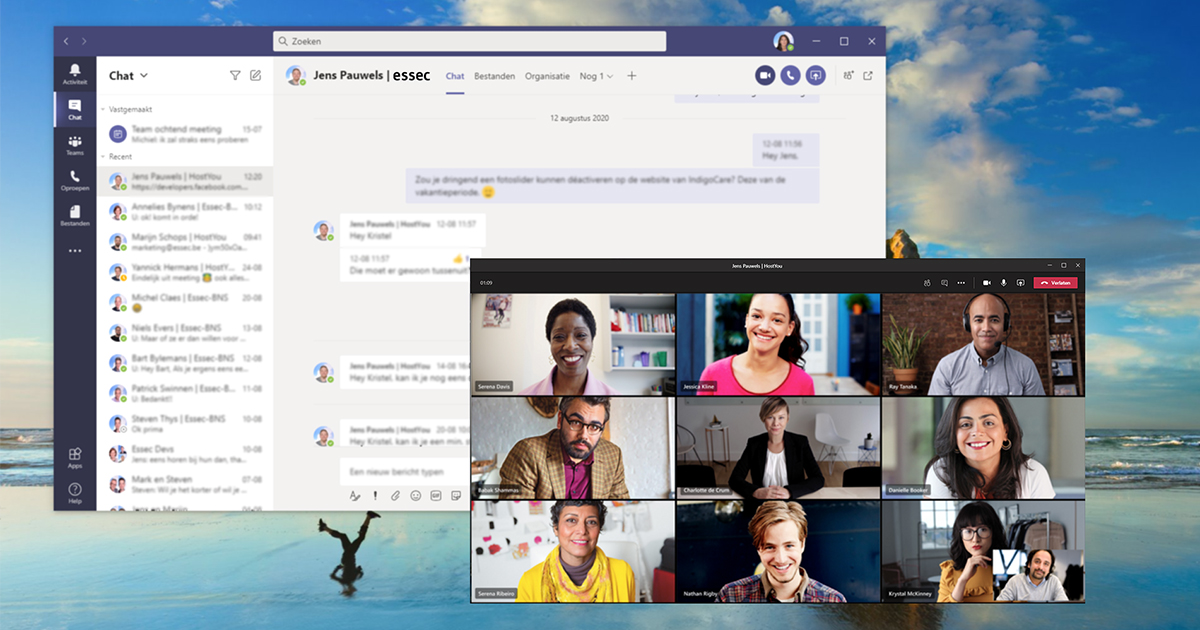 Er zijn heel wat aanpassingen in versneld tempo doorgevoerd op korte tijd. Dit mede door de vele vragen en het intensief gebruik tijdens deze Coronacrisis. Ondertussen is iedereen al bekend met het nieuwe gegeven om meer personen in beeld te krijgen (3×3). Maar er zijn sinds kort nog enkele andere interessante vernieuwingen:
Multi-window weergave tijdens vergaderingen.
Stel je even voor: hoe gemakkelijk zou het zijn een document te kunnen openen in een ander venster dan dat met je collega. Dat je rustig kan blijven verder vergaderen in hetzelfde venster en je document niet telkens weg zou switchen. Of dat je collega niet zou verdwijnen naar de hoek van je scherm, waar je deze nog amper kan zien. En dan die vervelende knoppenbalk die midden op je scherm staat, die zoveel plaats in beslag neemt…
Jawel! Met deze update is het mogelijk om tijdens een gesprek een document te openen/delen in Teams. Niks nieuws, maar het verschil zit 'm in het feit dat je dit document nu kan openen in een ander venster. Dus, contreet wil dit zeggen dat als je twee schermen hebt, dat je beide vensters kan openen op een ander scherm. Zo blijf je optimaal contact houden met je collega terwijl je het document op Teams samen kan overlopen.
Deze feature maakt het samenwerken veel gemakkelijker en werkt ook veel efficiënter. Ook handig als je tijdens de vergadering iets terug wil zoeken in Teams of als je nog even met een andere collega een chat moet afronden.
De nieuwe update dateert van juni maar zal in de periode augustus voor iedereen automatisch uitgerold worden.
De knoppenbalk wordt verplaatst naar de rechterbovenhoek.
Zoals je in bovenstaande screenshot misschien al hebt opgemerkt staat de knoppenbalk nu niet meer in het midden van je scherm, maar rechts bovenaan.
Daar zie je dezelfde knoppen die je anders ook had, maar met het voordeel dat deze nu het zicht niet meer belemmeren als je iets wil zien op het scherm.
Doorverbinden/in wacht zetten van een oproep.
Het menu onder de drie puntjes wordt uitgebreid van zodra je een audio- of videogesprek hebt met iemand anders. Volgende functies komen er dan bij, zodra je op je 3 puntjes klikt:
Wachtstand
Doorverbinden
Ruggespraak houden en doorverbinden
Deze opties zijn op alle apparaten met Teams mogelijk. Maar op een telefoon met de mobiele app bevinden de knoppen zich op een andere plek.
Heeft u na het lezen van dit bericht nog vragen? Contacteer ons op +32 11 450.480 of via sales@mybns.com