Social Engineering is een techniek waarbij hackers jouw computer of bedrijfsnetwerk proberen te kraken door de zwakste schakel, de gebruiker, te misleiden. De hackers maken hierbij vaak gebruik van de nieuwgierige eigenschap van mensen om vertrouwelijke informatie afhandig te maken. Een van de bekendste vormen van social engineering zijn phishing e-mails.
Deze phishing variant van hoog niveau kwam begin deze week binnen bij een van onze klanten. Om hun identiteit te beschermen hebben we de bedrijfsnaam aangepast naar de fictieve naam "Endago".
Een medewerker van Endago kreeg maandag onderstaande mail in zijn mailbox. De e-mail had als afzender Endago en bevatte een uitnodiging naar een nieuwe Endago Teams van Microsoft. De e-mail gaf ook aan dat er al 3 leden van Endago in het team zaten. Dit om vertrouwen op te wekken en tegelijk de nieuwsgierigheid aan te wakkeren.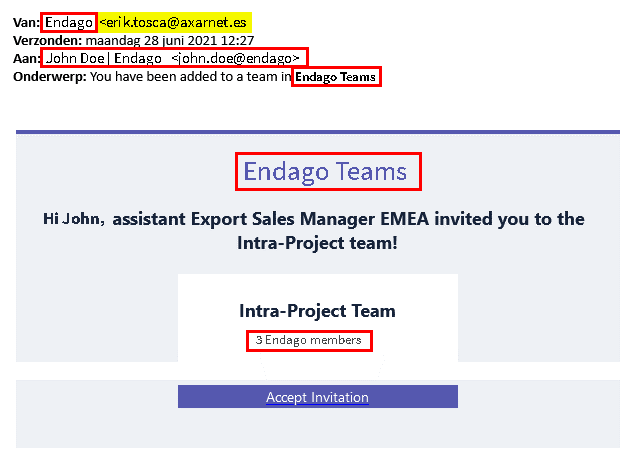 Eens geklikt op "Accept Invitation" kwam men op een ogenschijnlijke loginpagina van Microsoft waar men de Microsoft 365 login en paswoord moest ingeven. De pagina zat behoorlijk goed in elkaar:
In de titel van het tabblad (rechtboven) stond de naam "Endago – Sign in".
Het officiële logo van Endago werd gebruikt in het dialoogvenster.
De medewerker werd met zijn voornaam aangesproken.
Zijn e-mailadres (login) was reeds ingevuld.
In de kleine lettertjes was ook de bedrijfsnaam Endago opgenomen.
Links onderaan de pagina stond een copywrite teken met daarbij de bedrijfsnaam Endago.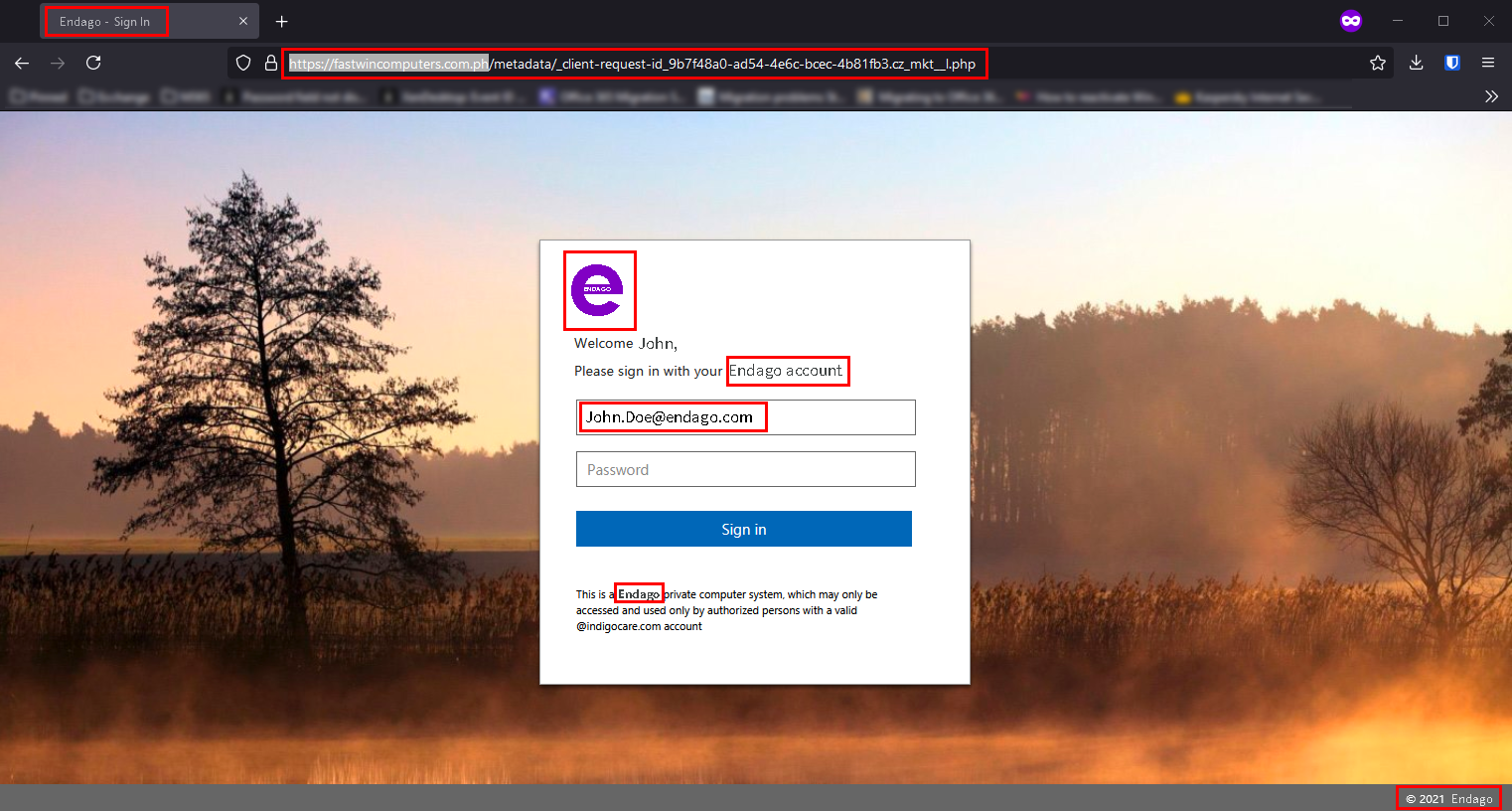 De enige fouten die de hackers gemaakt hebben, en die gelukkig ook moeilijk te omzeilen zijn, is het niet wijzigen van het afzenderadres (geel) en de URL van de loginpagina. Kijk dus bij het ontvangen van een e-mail niet enkel naar de afzendernaam, maar ook naar het afzenderadres. Heb je toch verder geklikt, kijk dan goed naar de URL van de pagina waarop je terecht komt. Heb je nog maar de minste argwaan, sluit de pagina en contacteer je systeembeheerder.
Een fout is snel gemaakt en hackers zullen steeds professioneler tewerk gaan. Om je nog beter te beschermen tegen phishing en gegevensdiefstal, maak je best gebruik van two factor authentication (2FA) of multi-factor authentication (MFA). Wil je hier graag meer over weten? Contacteer ons op 011 858 851, stuur een mailtje naar sales@mybns.com of contacteer onze helpdesk.