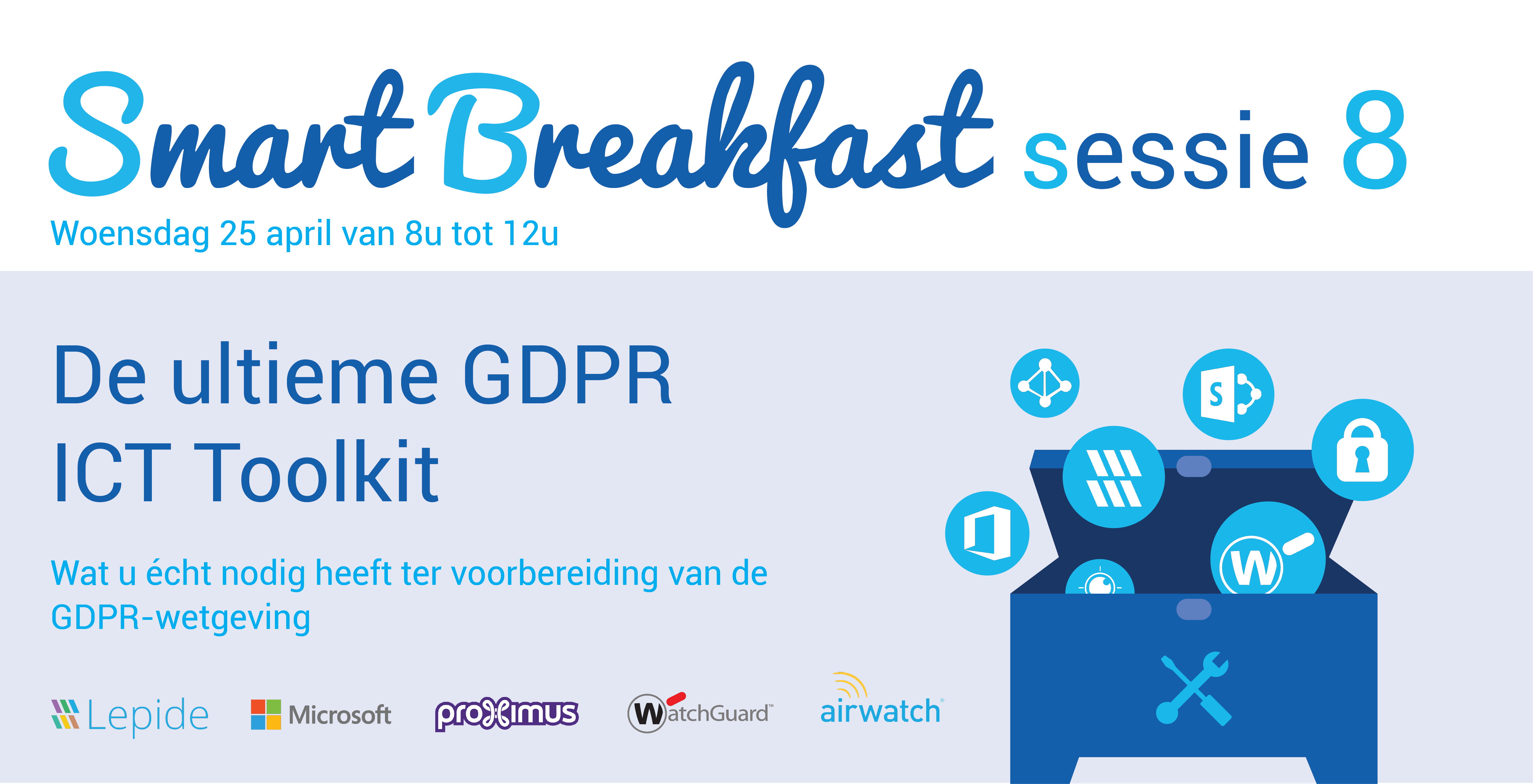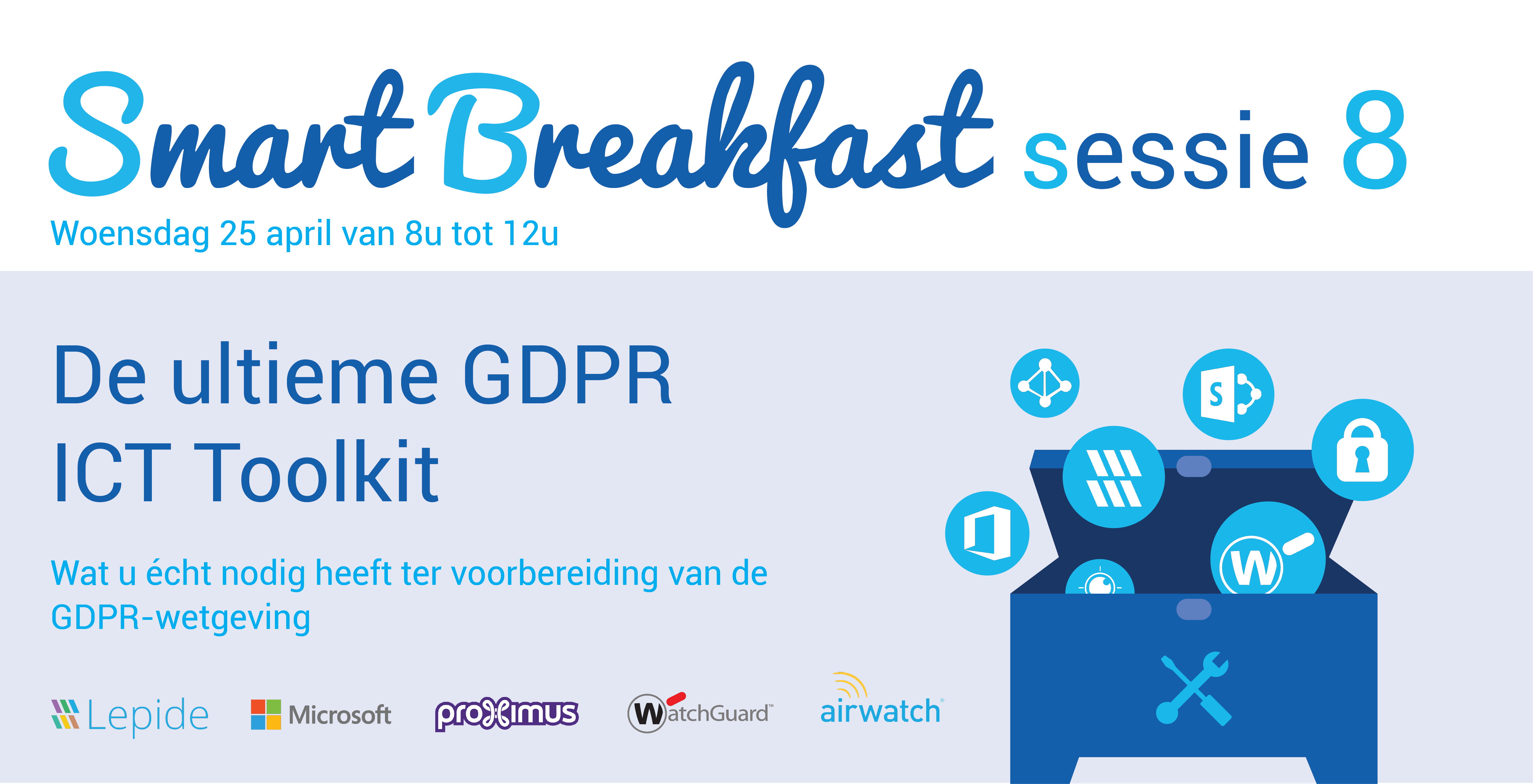 Wat u écht nodig heeft voor de GDPR-wetgeving
Staat uw bureaublad vol met Pdf's over GDPR? Of heeft u talloze ongelezen mailtjes over AVG-wetgeving in uw mailbox zitten? Doe ons een plezier. Gooi deze weg en kom op 25 april naar onze praktijkgerichte Smart Breakfast sessie. Op één voormiddag weet u perfect voor welke onderdelen u reeds in orde bent en wat u nog te doen staat. Een heerlijk ontbijt krijgt u er gratis bovenop! Opgelet, deze sessie richt zich enkel op het IT-luik van GDPR.
De ultieme GDPR ICT Toolkit
U ontvangt een helder overzicht van alle tools en applicaties die u nodig heeft om zowel uw data, netwerk, gebruikers als toestellen te beschermen en eventuele datalekken te voorkomen. Alle onderdelen van deze GDPR ICT Toolkit worden uitvoerig toegelicht én gedemonstreerd door een specialist ter zake. Hieronder alvast een greep uit de tools die we zullen behandelen:

Eén gecentraliseerde console waarmee u uw Active Directory, Group Policy's, Exchange, SharePoint, SQL Server en Windows File Server kan controleren. Het bevat ook tal van specifieke rapporten die u kunnen helpen bij het voldoen aan aspecten van GDPR-conformiteit.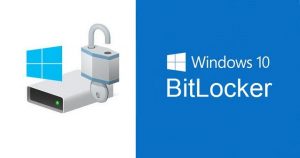 BitLocker is standaard onderdeel van Windows 10 Professional en wordt gebruikt voor de beveiliging van uw fysieke toestellen. Het maakt gebruik van de TPM-technologie (Trusted Platform Module) die gebaseerd is op de beveiliging van hardware door middel van crypto-grafische sleutels. Deze crypto-processor chip bevat meerdere fysieke beveiligingsmechanismen om het te beveiligen tegen sabotage.
Windows Rights Management Server
Het beveiligen van 'reizende' data (cloud, usb-sticks, e-mail, e.d.) is al langer een probleem en ook hier kan encryptie toegepast worden. Niet enkel in het kader van GDPR, maar zeker ook in het kader van de bescherming van uw eigen intellectuele eigendom.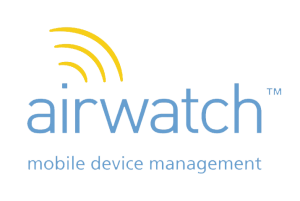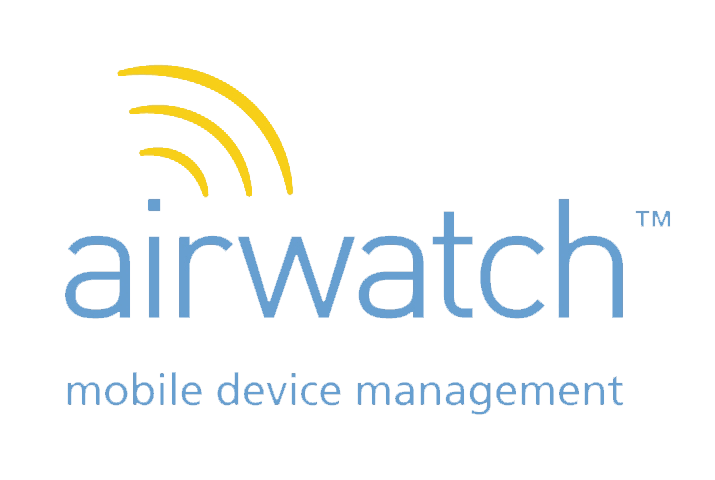 Airwatch Mobile Device Management
Mobiele toestellen zijn een nachtmerrie in het kader van GDPR. We weten vaak niet welke documenten en applicaties de gebruiker op zijn mobiel toestel zet. Laat staan dat we de paswoord policy kunnen verplichten. Als systeembeheerder wilt u ook weten welke toestellen toegang hebben tot uw servers en bedrijfssystemen. Mobile Device Management is de eenvoudigste en meest omvattende oplossing om dit voor elkaar te krijgen.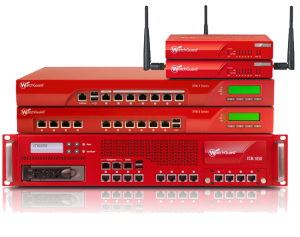 Met Watchguard firewalls beveiligen we uw toegang tot het internet. Naast alle standaard functionaliteit die u mag verwachten van een professionele firewall, heeft Watchguard verschillende functies toegevoegd die u moeten helpen in uw GDPR-compliance.
Inschrijven kan op de inschrijvingssite van de Smart Breakfast sessies. We zijn inmiddels toe aan de 8de sessie en het zal zeker niet de laatste zijn. Heeft u nog vragen over een bepaald ICT onderwerp, laat het ons gerust weten en wie weet behandelen we dit tijdens een van onze volgende sessies.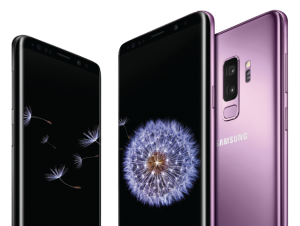 Ter afronding van de sessie, stellen we u in de mogelijkheid om vragen te stellen aan een doorwinterde DPO'er. Opdat hij/zij u een volledig antwoord kan geven, vragen wij u uw vragen te formuleren in een reactie op dit artikel of via e-mail naar marketing@mybns.com. Als extraatje verloten wij een Samsung S9 tussen alle personen die ons een GDPR-gerelateerde vraag sturen en aanwezig zijn op de sessie. Een onschuldige hand zal op het einde van de sessie de winnaar trekken. Veel succes en tot dan!
Woensdag 25 april van 8u tot 12u
De sessie gaat door in de gebouwen van Voka Limburg, Gouverneur Roppesingel 51, 3500 Hasselt
Agenda
| | |
| --- | --- |
| 8u: | Ontvangst/ontbijtbuffet |
| 8u30 – 8u45: | Inleiding |
| 8u45 – 9u45: | Lepide – spreker: Selim Ourtani (Technical Sales Manager @ Sertalink) |
| | Wat is Lepide? |
| | Hoe helpt Lepide uw organisatie in het kader van GDPR? |
| 9u45 – 10u: | Pauze |
| 10u – 11u: | GDPR ICT Toolkit |
| | Een demonstratie van alle tools en software ter beveiliging van uw gegevens, servers, toestellen en gebruikers. |
| 11u – 11u30: | Q&A – Vraag het aan een DPO'er: Nobby Vanheyst – Certified DPO @ VGD |
| 11u30: | Nabespreking + netwerkmoment |
| 12u: | Einde |